The Variation criterium is used the help the Coach determine if the Referees are training with sufficient variation in their schedule.
To evaluate this, the Training Quality Report will divide the selected 28 day period into 4 weeks. Every week will be assessed separately to determine if the specific week had sufficient variation or not. At the end, the Referee will receive a color code based on how many of the 4 weeks were variated sufficiently.
Determining if the week had sufficient variation
To determine the variation within a single week, Topsportslab works with 5 groups of primary aims:
High intensity endurance

FIFA Fitness Test
FIFA Fitness Test AR 75-25
FIFA Fitness Test REF 75-25
High intensity aerobic
Yo-Yo 15:8
Yo-Yo 16:4
Yo-Yo 18:2
Yo-Yo ARIET
Yo-Yo Dynamic
Yo-Yo Max
Yo-Yo Based Exercise

Low intensity endurance

Medium Intensity Aerobic
Integrated Practical Session

Speed

Agility & Coordination
Speed Sessions
Speed Endurance
Repeated Sprint Ability
Match Preparation

Strength

Strengthening Program
Injury Prevention
Rehabilitation Program

Active recovery & rest

Flexibility
Active Recovery
Low Intensity Aerobic
Complete Rest
The Referee needs to hit at least one primary aim from 4 out of 5 groups for the week to be labeled as "variated".
If the Referee has more than 1 match during the week, this threshold is lowered to 3 out of 4 groups for the week to be labeled as "variated".
After evaluating every week separately, a color code is determined based on how many of the weeks in the selected 28 day period were labeled as "variated".
Green

: All weeks are labeled as "variated"

Yellow

: At least 3 weeks are labeled as "variated"

Red

: Less than 3 weeks are labeled as "variated"
Checking Variation
When you want to know more about why a certain color code has been assigned for Variation or want to check the reasoning behind the outcome you can either filter some individual reports or open an individual report.
On the Variation block click the information icon. This will open a modal, giving you more information about the color code.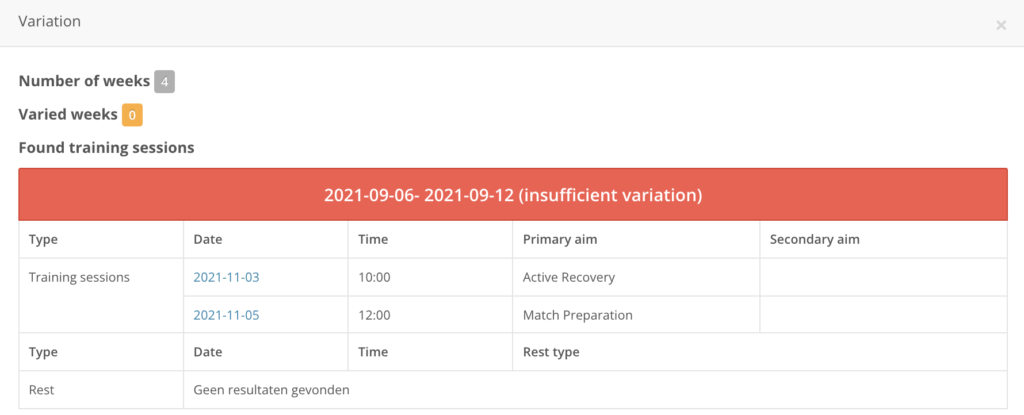 In this modal you will see how many weeks have been evaluated and how many of these weeks have been labeled as "variated".
Every individual week will also be displayed in detail, showing you which training sessions and rest sessions were found and what their primary and secondary aims were. The week will be coloured red if there was insufficient variation or coloured green if there was sufficient variation.