The Topsportslab platform support Viewing Preferences on various tables and overview pages. Usually you will recognise a table or page that supports Viewing Preferences by the cog icon in the upper right corner.
Viewing Preferences will let you determine what columns or fields should be shown on your page, apart from the default configuration of the platform. They will usually also let you decide what dater interval should be used and in what periods the data should be grouped when shown.
As an example we will use the workloads table on the general dashboard (or Training & Game dashboard for Athletes).

By default this table will show you the columns for amount of training sessions, amount of games or matches, total high-intensity distance and total high-intensity duration.
Clicking on the cog icon will open a dialog in which you can change your Viewing Preferences.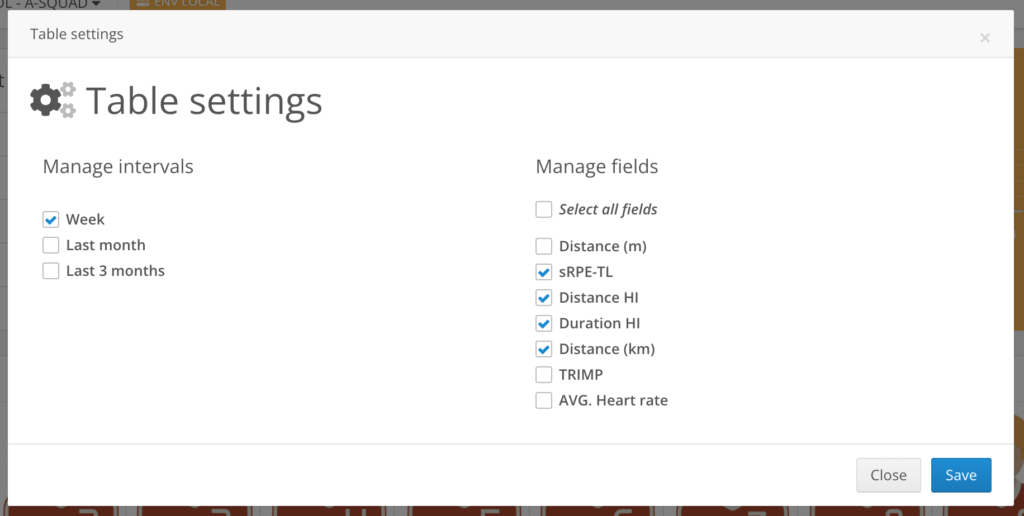 Here you can choose to view data from the last month instead of the last week. You can also choose to show all columns instead of only the columns that are selected by default.

Clicking save on the dialog will change your Viewing Preferences. You changes will be reflected on the table on the next page load!