The Topsportslab platform comes packed with a Settings Center that bundles all settings you will need for your personal account as well as settings of all your activated modules in one single section.
You can open the Settings Center by navigating to your profile picture (upper right corner) > Settings. This will automatically bring you to your Account Settings page. From here you can use the secondary sidebar to navigate through various categories of settings.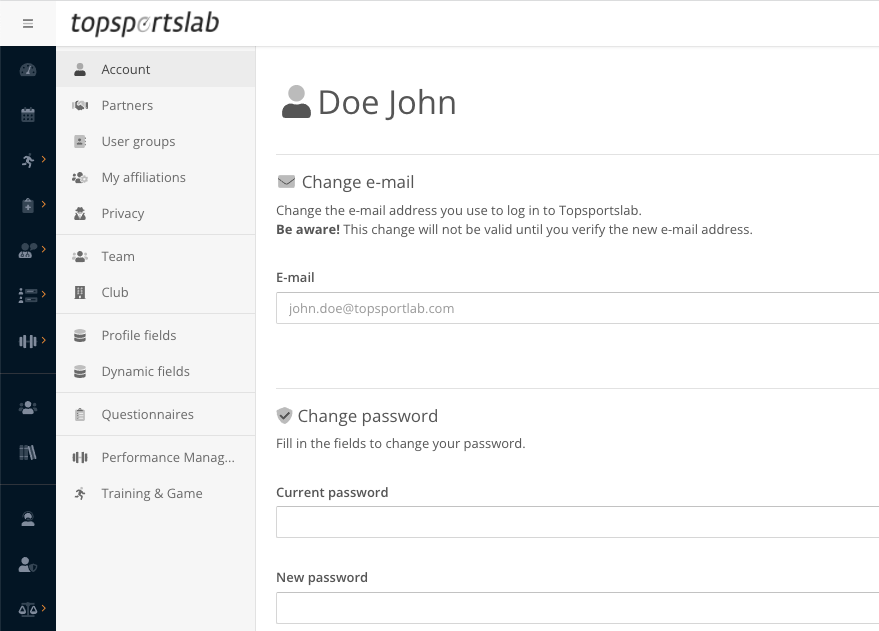 Depending on your role and the modules that are activated for your team you will find following items in your secondary sidebar:
Account
Contains all settings and personal preferences on how the platform should behave for your account.
Partners
Contains all settings regarding GPS-, Heart rate-, Sleep-, Activity trackers and how you can connect your personal devices to the manufacturers API's.
User groups
Allows you to manage user groups, which you can use throughout the platform to quickly message or send results to a specific set of users.
My affiliations
Allows you to manage your affiliations to various teams and clubs / federations.
Team
Allows you to manage team settings, team administrators and overwrite roles per module for this specific team.
Club
Allows you to manage club settings, club administrators, teams within your club / federation and move around users between your various teams
Profile fields
Allows you to manage profile fields and expand on the Topsportslab dataset.
Dynamic fields
Allows you to manage dynamic fields and expand on the Topsportslab forms.
Questionnaires
Allows you to manage self-report questionnaires.
Performance Management
Allows you to manage off-season periods, heart rate zones, speed zones, acceleration zones, …
Training & Game
Allows you to manage performance trackers and assign devices to your athletes.